Jarmo Toikka Ky | UAV Aerial Photography
In the summer of 2017, we conducted UAV flight measurements for Jarmo Toikka Ky, a company specialising in earthworks. The customer wanted to find out the number of gravel piles in an area spanning 30 hectares, and we discovered a total of about 100. The customer also wanted oblique photographs (pic. 3) and for us to measure the volume of an excavated area of the crag, at the northern end (pic. 4).
The area we worked in is located in Kouvola, near Utti Airport, so we needed a flight permit. We were allowed to apply for permission from Utti air traffic control. Also, other airspace operators in the area were notified about our work, so the airspace was safe for both us and others.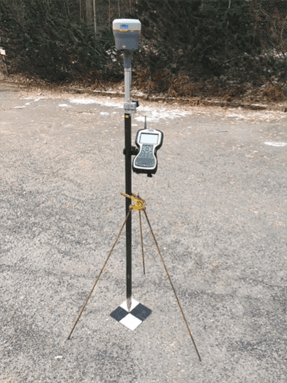 Pic. 1. Signal points are established on the ground.
We started our UAV flight measurements by measuring and establishing the signal points on the ground (pic. 1). Signal points are essential to deliver point clouds which are as accurate as possible, and to deliver what the customer requires in a high-quality coordinated system. We installed about 30 signal points for the area.
After setting out the signal points, we flew through the area according to the flight plan, after which we checked the pictures that were taken during the flight. The photos turned out to be successful, so we conferred with the company and agreed on a date for delivery of the material.
The number of gravel pits was easily calculated by using a special program, and was communicated to the customer in a visual format, making it easier to perceive and identify the volume of the piles (pic. 2).
Pic. 2. Volume calculation of an individual gravel pit.
We took oblique photographs of the area according to the customer's requirements, and the photos were successful. This type of image can also be used for monitoring areas that are under construction.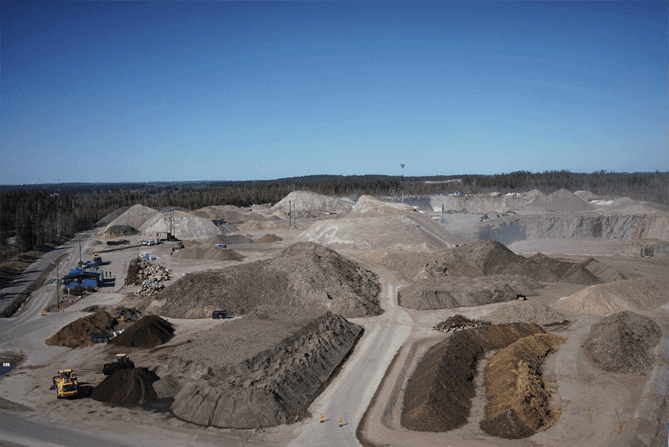 Pic. 3. Oblique photography from the southern part of the gravel area.
Also, a georeferenced orthomosaic of the area was created, which helps to form an idea of the proportions of the gravel pits on the ground. We flew over the crag in the northern part of the area especially meticulously, so that we could calculate the exact dimensions of the excavated volume. (Pic. 4).